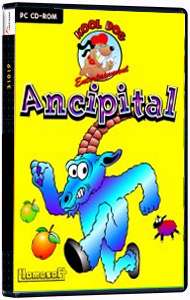 ANCIPITAL
The Ancipital life-form evolved on a little known planet out on the edge of the galaxy. They hibernated inside the Temple of Baphemet, where an evil demon has captured many prisoner's and transformed them into strange objects. You must free the prisoners, destroy Baphemet and make your escape. Another great Jeff Minter game from Llama soft.

features
* 100 different waves.

* Arcade shoot em up puzzler!

* Over 100 different wacky aliens.

* Fun for all ages.

Win95/98/ME/2000/XP, 300MHz CPU, 32Mb RAM, 8Mb Graphics, 25Mb HD, 4x CD-ROM
---