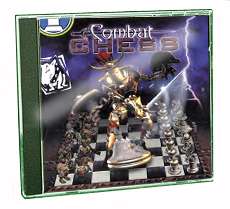 COMBAT CHESS
Combat Chess takes the basic chess game and adds an imaginative element for players bored with the simple "black vs. white" chess board. Beautifully done in rendered 3D graphics, Combat Chess adds stunning animation sequences during gameplay. Combat Chess is written to Grand Master standards and supports play against human opponents. While the idea behind Combat Chess (replacing the traditional Staunton pieces with character pieces) is not new, it is beautifully executed.
Combat Chess includes 3D rendered pieces from a medieval setting with fantasy elements. Pawns become dragons, Knights become - well, knights, Bishops become, er, bishops....Hmmmm. Maybe there isn't that much to this anyway. Whatever the case, the pieces are beautiful and interesting. Several animations accompany each piece. With over 600 animation sequences, combat is rarely the same between pieces. And each piece includes "fidget" sequences for those moments you need to think. The animations include movement, combat, fidgets, and "check" moves - for when a piece places the King in check.
For the traditional minded, Combat Chess includes a traditional set, also 3D rendered. Two boards come with the game, each assigned to the genre of pieces.
Win95/98/ME/2000/XP, 300MHz CPU, 32Mb RAM, 8Mb Graphics, 25Mb HD, 4x CD-ROM
---