CUE CLUB
Stunning 2D Arcade Pool, Snooker & Billiards Game!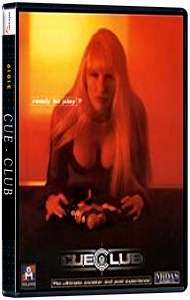 Cue Club is a comprehensive and highly playable pool and snooker simulation. Preferring an overhead view of the table.
Cue Club allows you to play the entire game using only the mouse. This makes the game instantly playable and highly addictive. With a choice of different table designs and a healthy selection of games (UK 8 Ball, US 8 Ball, 9 Ball, Snooker, Killer and Speed Pool), there's plenty to keep you occupied. Also thrown in is a handy practice mode, which is an excellent environment to test out the stunningly accurate physics, and hone your ball control skills. Side, top, back spin and swerve can all be applied to great effect, enabling you to pull off some incredible shots.
You can even get rid of the cue altogether and just hurl the balls around with the mouse! Luckily, a replay option is included which will let you save all your best shots to show your mates later.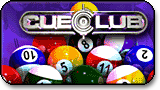 Developed by Bulldog Interactive, Cue Club features a plethora of options that help it stand out from the crowd. First among these is the 'virtual chat' feature, which allows the player to interact with their digital opponents courtesy of some sophisticated Artificial Intelligence. This feature has been used to great potential, with the game taking you through 8 different chat rooms, varying from the darkened 'Basement' to the hedonistic 'Penthouse.'
FEATURES...
A plethora of pool games (US 8 Ball, UK 8 Ball, 9 Ball, Snooker, Speed Ball, Killer)

Single player, 2 player, practice, slam and 2 championship modes.
Virtual chat rooms, in-game chat, LAN games and much more...
Fully customisable tables, cues and ballsets. You can even change the rules.
In-game reference manuals and tips on how to improve your game.
Photo-realistic graphics. The balls even have reflections and real shadows.
Slick club-style menus with 8 rich and varied chat room boss characters.
Uses accurate real-world physics to model collision, swerve and spin to full effect.
Advanced A.I. routines make the computer play as naturally as a real player. They even play for position.
Over a dozen high fidelity stereo CD dance tracks.
Brilliant sound effects ranging from the smack of the cue to the subtle rumble of balls rolling inside the table.
Captures the pub atmosphere of pool like no other game in the genre.
Utterly addictive and superbly playable.
"This is the more entertaining, realistic and above all fun pool game yet" COMPUTERACTIVE
"Both Pool and Snooker have all been faithfully re-created" GAMEPLAY
"Hyper Realistic pool game accompanied by a seventies soundtrack" PC DIRECT
Minimum hardware requirements:
Pentium II 266Mhz 32 MB RAM

Direct X 7.0 compatible 3D Video Card with 8 MB Ram

Windows 95/98/Me/2000/XP

16 bit Soundcard

Microsoft compatible Mouse

Direct X 7.0 or higher
---