KING'S QUEST VII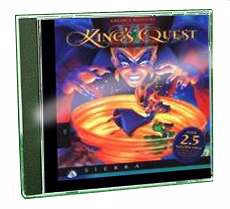 The story begins when Princess Rosella is lured into a magical pool and the enchanted world beyond.
Her mother, Queen Valanice, plunges in after her and they find themselves in a land beyond reality.
Inhabited by delightful and fantastic creatures, The Realm of Eldritch is in the darkest peril: an evil enchantress plots to destroy it and our two protagonists become caught up in the adventure of their lives....
Imaginative, rich and humorous storytelling

Developed using brilliant cinema quality animations

Features an enchanting world in which you play as two different characters

Breathtaking high resolution backgrounds

Accompanied by memorable, fully orchestrated musical scores
Win95/98/ME/2000/XP, 300MHz CPU, 32Mb RAM, 8Mb Graphics, 25Mb HD, 4x CD-ROM

---