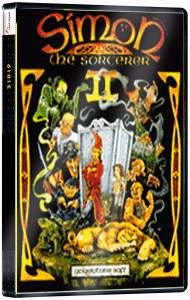 Just when he thought he was gaining some semblance of normality, Simon's wonder years are once again turned upside down when the evil wizard Sordid returns from the grave with only one thing on his mind - revenge!

Journey with Simon through this sequel to the best selling "Simon The Sorcerer", as he manages once more to get stuck in aland of twisted fairytales, recycled gags and carbon dated cliche's!
With a cast of thousands (mostly woodworm) and enough Swampling Stew to keep an underprivileged country sick for a year, this classic adventure will keep you entertained for hours!!
.

---