Defender Of The Crown - Digitally Remastered Collector's Edition
Relive the timeless classic that captured gamers' hearts worldwide! Digitally remastered for today's computer systems!
It's a time of lusty wenches and black-hearted villains. King Richard has been murdered and England thrown into civil war! The bold Saxon knights have chosen you to lead them into battle. Compete in grand tournaments of joust, lay siege to castles and raid enemy strongholds to find the lost crown. Enlist the support of Robin Hood and outwit your enemies to restore order to a war-torn land. Your skills as swordsman and military leader will be severely tested. But should you succeed you'll win the crown and the love of a beautiful damsel!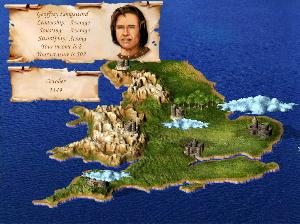 • The original Amiga version of Defender of the Crown, a gaming classic that sold 1,000,000 units worldwide, is now reborn in this enhanced collector's edition. This degitally remastered edition offers the fantastic action and strategy of the original game coupled with all new hi-resolution graphics, sound, and additional material! A true gamer's delight!

• Heart-pounding action and strategy - rescue beautiful damsels and lay siege to castles
• Majestic tournaments where you joust for fame, fortune and land
• Swordfights challenge your skill as you raid dungeons and search for treasure
• Easy to learn, yet challenging to master. Each game plays differently
• Supports both PC and Mac computer platforms. Great for laptops!
• Includes bonus theme pack, screensaver and full original game code