Hooves Of Thunder!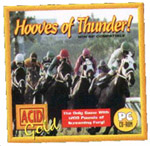 "If you love horse racing, you'll love Hooves of Thunder. Even if you're indifferent, you just might convert into a horse racing fan once gambling fever kicks in!"
Hooves of Thunder! is a racing simulation where 1500 horses, 125 jockeys and 150 trainers race 311 days a year.

Each day has 10 races in a variety of claiming, maiden, nw1/2, and allowances. And, through the year, there are 125 Handicap and Stakes races. The monthly condition book lets owners and trainers map their entry plans. Stable owners add to their stables through auctions for unraced 2 yo's, private purchases, and claiming. Each year, some 250 horses are retired from the game due to poor performance or injury, and 250 unraced 2 yo's are added.
Hooves Of Thunder delivers realistic racing action; results depend on past performances, track conditions, pace, track bias, race positions, running styles and other factors.
Except for instant replays, results are never the same even in re-runs. Hooves features complete past performances and results charts. Parimutual betting is to win, place and show with exactas/trifectas. And Hooves gives you 120 professional handicapping tips for picking winners in Hooves and live racing.
Five 3D modelled race tracks

Numerous ground conditions

Universal TV action angles

Race night or day, rain or shine

Race Night or Day, Rain & Shine

Uses real-life video footage.

Arcade and Management Skills

Realistic racing announcer

Hooves has a seasonal rhythm similar to live racing. 2YO's begin their careers in May and winners move to Allowances.
The better ones go on to higher class Allowances and Stakes. The lesser ones go down the claiming path until the right spots are found. As in live racing, owners can strive to get to the big races.
Some of the key races are:
3YO's: 1st Saturday in May - Blue Rock Derby, 9f, $500,000 purse
1st Saturday in August - Blue Rock Cup, 12f, $600,000 purse
2nd Saturday in August - Blue Rock Oaks for Fillies, 9f, $175,000 purse
4YO's & up: 3rd Saturday in July - Blue Rock Classic, 10f, $250,000 purse
3rd Saturday in August - Gold Bar Stakes, 12f, $500,000 purse
You'll delight in the sights and sounds of Hooves of Thunder with 5 tracks, the call-to-the-post, race announcers and crowd noises down the lane. Hooves produces exciting racing year after year. So let Hooves of Thunder bring you to the real world of racing or add extra enjoyment to those who already love the best game in the world!
Please Note: Not for XP

While stocks last!
---
---