Horse Racing Manager
Just back into stock!!!
Horse Racing Manager lets you enjoy the sport of kings at all levels. Choose whether to play the game as an owner, breeder, trainer, jockey or punter. Each activity will require specific know-how that you will be able to acquire with each play.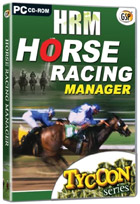 As an owner, you will have to keep an eye on your finances and optimise the working time of your staff as well as your own.

As a trainer, you will have to prepare your horses according to the goals you will have set for the season, bearing in mind each horse's characteristics and your financial constraints. Your ultimate goal as a trainer will be to improve their overall characteristics to their maximum capacity.



As a breeder, you will seek and hopefully find the right matches for reproduction; you will also be in charge of the weekly report on each of your horses.


As a gambler, you will be able to visit the most famous racetracks and follow the greatest races, live. You will have to use all your gambling skills to increase your initial capital and avoid bankruptcy.

As a jockey, you will have to show your talents as a competitor and strategist in real time. Take into account your horse, the competitors, the racetrack, the weather conditions in order to have a chance to win.

Become a solo expert and then come face the other players in a LAN or on the internet, either in the racing or in the betting mode.

Features
Breed and train your own horses
Place bets on all races
Full 3D engine when viewing a race
Simulate, view and manually control your horse during races
Real life race tracks and locations
Hire and Fire staff for you stable
Race your horse and place bets in online races
Platform: Windows 98, Windows 2000, Windows Me, Windows XP
---
---