ALLEN CARR'S Easyway to STOP SMOKING for PC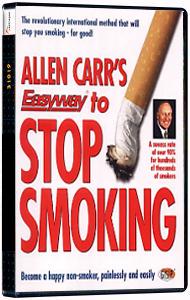 At last - an easy way to Stop Smoking…it's difficult to imagine, but that's exactly what Allen Carr, himself a chain smoker for 33 years, discovered in 1983. He went from 100 a day to zero instantly, painlessly and permanently!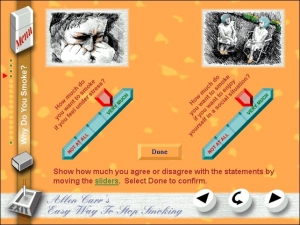 Divided into 17 easy-to-work through chapters, including...

Addiction:
Understand that nicotine is a drug and work out why you experience panic when you are without cigarettes.

Caught in a trap:
Explains smokers' fears and removes the illusion that you won't be able to enjoy life or handle stress without a cigarette.

The Beautiful Truth:
Discover that there is nothing to give up and everything to gain. You'll achieve what every smoker on the planet wants to achieve - FREEDOM!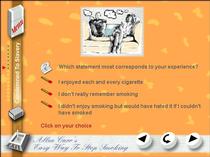 System requirements:
Microsoft Windows 95, 98, Me, 2000 or XP
200 MHz processor
32MB RAM
640 x 480 16-bit colour screen
Sound card
CD-ROM drive