John McCririck's Starters Orders

John McCririck's Starters Orders is a realistic PC horse racing game. Own, train, ride, and bet on horses at over 40 well known racecourses worldwide including Arlington, Ascot, Flemington, Newmarket and Tokyo.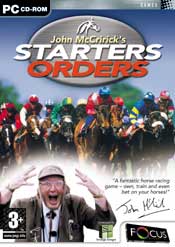 Train the horses yourself or let your PC do it for you! Bid at the auctions for additional horses or sell one of your own horses to generate extra cash, but make sure you keep a close eye on your finances – jockeys and race entry fees can soon add up.

View current race details and entries then analyse the form before you place your bet. On race day watch as your horse takes to the field and see whether your hard work has paid off.

Will your horse be the first to cross the finishing line? Even take to the saddle yourself, judge the pace of the race then make your move.

It's a great game to play with friends using multi-player mode.

Take it in turns to bet on the horses and see who can be first to win £1 million.
Realistic race calendar featuring key UK and foreign races on over 40 simulated racecourses.
3 different game modes – punter match, training game or jockey mode.
All major race types accurately simulated including handicaps, group races selling/claiming races and maidens with fields of up to 30 runners.
Exciting race sequence with zoom options, weather effects and overhead course 'radar' view.
Detailed and accurate Racecards for every race.
Dynamic real time formbook - stores up to 5 years of game results.
Realistic and statistically accurate betting model.
Dynamic race world with new 2 year old horses joining and older horses retiring every season.
Platform: Windows 98, Windows 2000, Windows Me, Windows XP
---