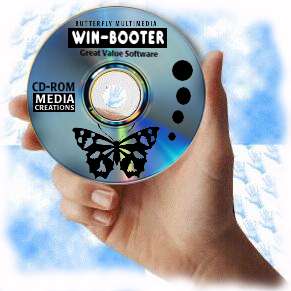 ESSENTIAL FOR WINDOWS 95-98-98SE-WIN ME-2000-XP
BUY IT BEFORE IT'S TOO LATE!
Whether your system has been attacked by a virus or your harddisk has failed, the WIN-BOOTER CD will fix the problem. Simply insert the CD, sit back and let our new improved Win-Booter CD do all the work. We guarantee you'll be able to boot-up your PC again.

DO YOU FEEL LIKE BEATING YOUR COMPUTER???
IF SO THEN BUY THE DISC NOW!!!!! IT'S CHEAPER!!!!!!
The WIN-BOOTER CD is your best way to ensure that your PC never completely fails again. If you ever have a system failure, just insert your WIN-BOOTER and you can be assured that the problem will be fixed. Don't wait till it's too late. Order your WIN-BOOTER now and never suffer the frustration of a system-crash again. WIN-BOOTER is 100% Guaranteed to get your PC to boot up again.

WINDOWS RESCUE CD DISC FOR WINDOWS 95-98-98SE-WIN ME-2000-XP

AUTO LOADING CD-ROM DRIVERS AND UTILITES

THIS DISC WILL DETECT PARALLEL, SCSI, PCMCIA DRIVES

A MUST IN CASE OF COMPUTER, LAPTOP, NOTEPAD CRASHES

USE ON COMPUTERS COMPUTERS WITH NO FLOPPY DRIVE

REFORMATTING HARD DRIVE WITH EASE

SETTING UP NEW COMPUTER IS EASY

MORE CD-ROM DRIVERS THAN THE STANDARD FLOPPY

SORTS OUT VIRUS PROBLEMS

A MUST FOR ANYONE WHO IS BUILDING OR UPGRADING A COMPUTER
Requires Windows 95,98,98se,ME,XP,2000
WORKS WITH ALL LATEST VERSIONS OF WINDOWS
FIXES VIRUS ATTACKS
RECOVER PRECIOUS DATA
100& GUARANTEED
HERE'S WHAT SOME OF OUR USERS SAY.....
"I've been having major system crashes for the past month or so, I got your CD and cross-fingers, my PC has not failed me once since" J.Pollock UK
"My PC completely crashed out a week ago, so I used your Win-Booter CD for the first time. I'm writing just to say a big THANKS for providing me with such an essential CD" Sue B. USA
"Your CD is the Best, Sorted out my PC once and for-all!" S. Sheppard AUS
ATTENTION!!!! SPECIAL OFFER
Pay for your WIN-BOOTER CD within 24 hours and we'll also send you "The Ultimate Windows Tools CD" absolutely FREE!
Please note this CD is automatically sent if you order within 24hrs!
Your essential Windows Add-on CD-ROM
---
Copyright 2003 - Supplied in Jewel Case with Original CD - Images are for illustration. Artwork may differ.